Need to convert your emails into Word documents? Want to share your messages on the Web and need them in the HTML format? Looking for a way to transfer emails from Outlook to an alternative email client? Consider it done!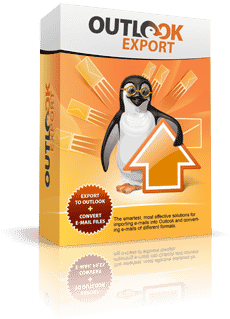 Outlook Export Wizard [DOWNLOAD] is a multi-functional export and conversion tool that enables you to extract the contents of Outlook PST files and save this data in a number of formats. The program allows you to quickly export email messages, notas, kontakte, calendar tasks, journal items –; simply put, all kinds of objects and items you can find in Outlook and convert them into other formats for further editing, publishing or processing by third-party applications. Outlook Export Wizard can also be used for creating complete backups of your Outlook storage file where each element can be immediately accessed and opened in a corresponding editor.
The program preserves the folder structure of the source PST file and recreates an identical folder structure on your hard drive. Outlook Export Wizard can work with existing Outlook profiles en standalone PST files residing on your hard drive or other media [ read more about exporting modes ]. The format auto-detection function greatly simplifies the Outlook data export process allows you to let the program decide which output format should be used for the items being extracted. The following output formats are currently supported by Outlook Export Wizard: EML, MSG, RTF, HTML, VCF (vCard), TXT, MHT, VCS (vCalendar), iCS (iCalendar) en TNEF.
Laai affor Windows 32/64 bitAankooplicense code online


 Get it from CNET Download.com!

System Requirements

:
Microsoft Windows OS
,
32 or 64-bit version
,
Microsoft Outlook 97-2016 for Windows
,
32 or 64-bit edition
.
Source files of compatible format
:
*.pst or Outlook user profile
.
Below is a brief overview of

Outlook Export Wizard

capabilities

:

The program has a very simple interface based on an easy to use wizard. The wizard consists of the following short steps:
Selection of the source file

(

Outlook

profile or a separate file

)

and the destination folder

;

Outlook

items analysis and preview

;

Outlook

data extraction

.
Export

of

Outlook *.msg

email messages

to "

;

The Bat!

"

;

and other

RFC822

-based email clients

Fast and easy recreation of the

structure of

Outlook

sub-folders

on the hard drive or other storage devices

Extraction of

Outlook

kalender

entries

, kontakte,

email messages

, notas

and other items into corresponding folders

Filtering of emails by several key parameters

,

such as attachments and message size

Ability to

extract

Outlook

items

and save them to files of the

MSG

format

(

PST

om te

MSG

),

which facilitates the backup process

Ability to

save

Outlook

items

in the

Microsoft Word RTF

format

(

PST

om te

RTF

)

for further editing and publishing

Conversion of

Outlook

contacts to the Virtual Card format

(

PST

om te

VCF

), wat grootliks vergemaklik die migrasie van

Outlook

kontakte

Lotus Notes

Ability to

red e-pos as

HTML

lêers (

PST

om te

HTML

) vir die daaropvolgende publiseer op die web

Conversion of

Outlook

posbusse in die

MHT

format

(

PST

om te

MHT

) die behoud van

HTML

opmaak, ingebedde beelde en ander voorwerpe wat gebruik kan word vir aanbiedings of een manier argief
Uitvoer van

Microsoft Outlook

profiele en selfstandige

PST

lêers

of

Unicode

en

ANSI

formate in

Outlook

.
Stoor van data vir toekomstige besigtiging, deel, wysiging, druk of web-publikasie
Maklik-om-te gebruik wizard kan jou einde-gebruikers data om vinnig uitvoer
Kragtige uitvoer opsies vir verskeie data-formaat
Outlook Export Wizard is smart, vinnig en is'n groot waarde vir jou geld. Voel vry om te laai die proef weergawe of die aankoop van'n lisensie om te geniet van die voordele van die weerlig-vinnige Outlook data uitvoer en rugsteun!
NOTA: Outlook Export Wizard utility is not working with damaged and corrupted PST lêers. It can extract data from healthy PST files and Outlook user profiles. If your PST file can';t be opened with MS Outlook (it is not the personal folders file or it should be recovered error displayed), please use the PST recovery tool and repair the corrupted PST first. Then you will be able to extract data from recovered PST file.
Outlook Export Wizard will tremendously simplify data migration between Microsoft Outlook and any other applications, be it email clients or text processors. If you move lots of data from Outlook to other programs on a regular basis, this handy software will be just the right thing for you!
Our Customers Choose Also

:
&nbsp

;

&nbsp

;

&nbsp

;

&nbsp

;

&nbsp

;
Average rating

:
&nbsp
;
&nbsp
;
2 reviews
I needed to quickly upload the contents of a pst file to Google Apps. Your Outlook Export tool did the trick.
This saves us a large amount of time
.
Thank you very much for the creation of the software. With Outlook Export Wizard we extract a number of emails from a single PST based upon search criteria. We then import the extracted emails into a new PST we can easily mail out for review. This saves us a large amount of time as we no longer need to create the folders for each email. (as outlook is a pain and won't import folders!)