Migración de correo electrónico de Apple Mail para Outlook
Q. Intento usar o Asistente de Importación de Outlook para importar aproximadamente 15,000 correos electrónicos que foron almacenados en Apple Mail (v4.1). A importación foi sobre todo un éxito, pero a maioría dos correos electrónicos parecen ter pequenas partes do seu contido modificado. Sobre todo isto maniféstase como personaxes substituído por Igual símbolo (=) en HTML correos electrónicos recibidos a partir de usuarios a través de Outlook, pero código HTML si ás veces pode ser atopado, por exemplo, substituíndo o Comercial (&) símbolo coa =amp;. É este un problema coñecido e, se é así, hai algo que eu poida facer para impedir-lo? Hai un xeito mellor de migración de correo electrónico de Apple Mail para Outlook so that such transformations do not occur?
Un. Please enable the emails preprocessing option ";Enable the EML preprocessing (Unix, [object Window])"; prior to start the importing. The ";Options"; button is available at the second wizard page. Just enable it and import emails to Outlook. This option will scan each message and correct th encoding in accordance with MS Windows char-set table. It will remove garbage symbols from imported emails so they will be imported correctly.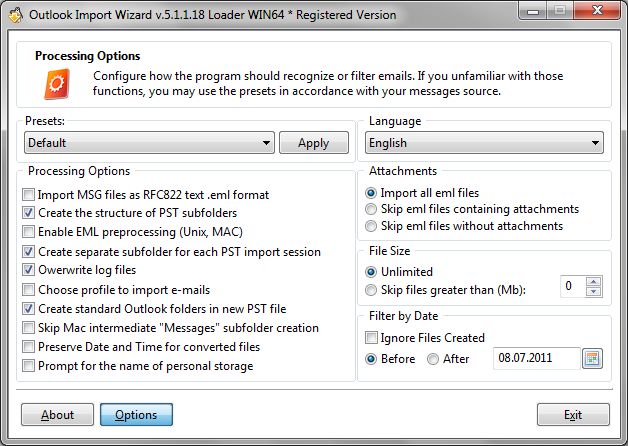 If you wish to learn more about Outlook Import Wizard options please read this article.
If you feel uncomfortable to configure each option separately, you can use one of the presets. Choose the preset for Mac OS email software, press the Apply button and confirm the options choice by pressing OK button.