Follow these easy steps to register our software:
Download
Prior to buy the software to convert eml to pst, please obtain the limited demo version for tryout.
Please use the download page to get Outlook Import Wizard or free .mbox to .eml converter. Download page contains brief information about latest software version, installer size and appropriate download links. It is recommended to download and try the software prior to pay for the license.
Install and Try
Install the software using the simple setup wizard which guides you via installation procedure.
Click to download link and choose Run or Save items. The system security message may appear because the software installer is not signed. Please allow our software to be downloaded, we guaranteed that our software is absolutely clean from bad-ware if it is downloaded from this site.
Run downloaded installer and carefully read the End User License Agreement (EULA) and if you confirming it you can  follow all steps of installation wizard.
Register
The last step is registration. When you pay for software license, the special code will be sent to you. To unlock the demo version you should register it.

Select the license code and press Ctrl+C keys combination.
It will copy the number of selected symbols to the Windows clipboard.

Run the Outlook Import Wizard tool and press About button.
The special form will be displayed.

Press Ctrl+V keys combination.
It will paste the license code to the text field of About window

Press the OK button to confirm the registration and
restart the program.
Please save the registration letter to the safe place.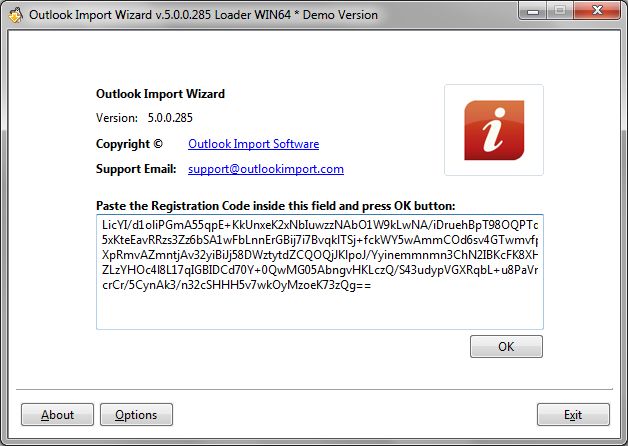 On-line Instructions
Registered software has no demo restrictions, so you can use it on full power .
If you expecting difficulties to using our software, please refer to the instructions page which will guide you via all steps of eml to outlook importing. The Frequently Asked Questions page is also at your order.
And yes, you can contact us via e-mail or using the on-line form. Our technical support will do our best to help you as soon as possible.