Powerful tool for .PST data recovery and OST to PST format conversion. Can be used as PST viewer.
Outlook Recovery Wizard is a highly efficient and fast PST repair tool that will help you restore emails, tasks, calendar entries, notes, contacts and other objects from damaged Outlook PST and OST files. The program has a simple wizard-based interface that enables virtually anyone to restore corrupted Outlook data files in minutes, thus reducing the downtime and eliminating the need for expensive emergency data recovery services provided by third parties. No prior experience of data recovery or special skills required!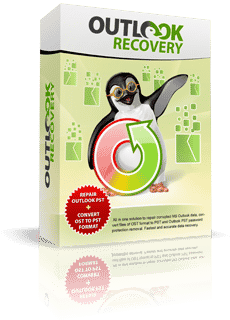 The key advantages of Outlook Recovery Wizard are speed, simplicity and use of several advanced recovery algorithms for multi-pass data restoration. The software is based on a proprietary recovery engine that employs several algorithms to ensure that the PST file being recovered has been analysed to the maximum extent and all possible measures have been taken to extract the damaged PST data structures.
First, the program scans the content of the PST, OST file and looks for headers and signatures pointing to user's data. Once found, the Outlook Recovery tool attempts to match the indexes with the located data. The results of this attempt are shown to the user on the preview stage.
Finally, the recovered Outlook data is saved to the output file according to the index structure. To put it simply, Outlook Recovery Wizard accepts an input PST or OST file, attempts to find any recoverable data, repairs and saves them to a PST file of the old Outlook format or to the Outlook 2003+ PST format, depending on the user's choice. And the great thing about this software is that you don't need to do anything – just point to the file, adjust a couple of recovery options and lean back to watch Outlook Recovery work its magic!
Downloadfor Windows 32/64 bit Purchaselicense code online

System Requirements: Microsoft Windows OS, 32 or 64-bit version, Microsoft Outlook 97-2016 for Windows, 32 bit edition (with 64 bit edition you may save recovered data to EML files only). Source files of compatible format: *.ost, *.pst.
Below is a list of the most remarkable features of
Outlook Recovery Wizard
The program has a very simple interface based on an easy to use wizard. The wizard consists of the following short steps:
Selection of the source file and target directory;
Analysis and preview of repaired

Outlook

data;
Saving of the recovered

PST

data.
Use of several advanced algorithms for multi-pass data recovery from damaged

PST and

OST

files – ensures 100% recovery efficiency
Requires absolutely no knowledge of

Outlook

data recovery basics or previous recovery experience – the process is simple and straightforward
Optimization and de-fragmentation of output files. All files generated by the program are already compacted and de-fragmented, so you don't need to use the

Compact

command in

Outlook

to reduce the structure size
Possibility to convert

OST

files to

PST

Support of files over 4 GB in size
Removes password protection from recovered files and supports recovery from password-protected files
Recovers data from encrypted

PST

files
Reads and previews the content of

PST

 and 

OST

files, can be used as

PST

viewer
Recovers all types of objects from

Outlook PST

files: messages, contacts, calendar entries, notes, etc.
Compatible with

PST

files created in

Microsoft Outlook

97-2016 and

OST

files used in

Microsoft Exchange

Keeps the original file intact and unchanged, saves recovered data to a new, compacted and optimized output file
Please note that the demo version of Outlook Recovery Wizard shows the content of messages and other items for a couple of seconds and them covers it with a pane. However, this should be enough to see what information is potentially recoverable. The demo version also recovers a limited number of items per folder, so you is able to save the PST file, Open it with Outlook and check how it saved.
Repair Corrupted
PST

and

OST

Files

Outlook Recovery Wizard is an excellent tool for anyone who has ever faced the problem of corrupted PST, OST files or would like to be well-prepared for such force majeure cases. Don't waste time and money hiring recovery experts who will charge you a pretty penny for every message restored from your files. Forget about sending your PST files with confidential private and business information to recovery services and worrying about it. Take control of the situation and use the potential of this great PST repair software from the convenience of your home or workplace. Try Outlook Recovery Wizard today and it won't disappoint you even in the most desperate situations!
Simply to Use
Outlook

Recovery Utility

Outlook Recovery Wizard is affordable, easy to use and very efficient, even in the hands of novices. No matter what happened to your Outlook data file, it will take you minutes to scan it and start recovering your PST data. With Outlook Recovery Wizard, you won't depend on the availability of third-party recovery experts and pay a pretty penny for their services. Outlook Recovery Wizard will minimize downtimes and maximize your chances of recovering all of your information in no time!
Our Customers Choose Also: