MBOX to EML Converter – Free eml extractor
Mbox to EML Converter – extract emails from mbox and mbx mailbox files of thunderbird eudora entourage. The free mbox to eml converting utility supported to .mbox and .mbx mailbox files of Thunderbird, Eudora, Entourage and other mailbox formats.
Please note that we have updated the MBOX Converter with new functions and interface. It is more powerful now! Read more about MBOX to EML Extractor updates.
Mbox to Eml Converter is the special tool which intended to extract emails from mailbox files of Mozilla Thunderbird, SeaMonkey, Eudora, Entourage and other email clients.
Many email clients still doesn't have an email export feature which would export e-mails in a format understandable by Outlook Express or Microsoft Outlook. Mbox to Eml Converter can be of great help in the procedure of migration. For sample: it is the best way to export all of the emails in a Thunderbird inbox to eml files, one file per email. The mbox extractor included to the Outlook Import Wizard setup but can be downloaded and used as standalone tool. Mbox2Eml don't need additional modules to be installed, just download and run MBOX to EML Converter, select the mbox file you wish to convert and select the location where extracted eml files should be stored. The program will start converting the files, and the conversion log will be filled by processing messages. All the attachments will also be converted in case if attachments are stored inside the mailbox, the original mbox file remains unchanged.
How to import mbox files into Outlook or Outlook Express?
How to export Mozilla Thunderbird emails to Outlook Express or MS Outlook? Prior to import emails to Outlook or Outlook Express, Thunderbird mailbox should be converted to EML files. Even though Mozilla Thunderbird is a popular email client, there are people who need to switch back to Microsoft Outlook Express or Microsoft Outlook. Mozilla Thunderbird stores all personal user data, such as email letters, address books, passwords, extensions, themes and settings in a special user profile. Its stored outside of your program folder to make it easier to upgrade without risking of data loss. Default Patch to Thunderbird User Profile:
C:\Documents and Settings\<Windows User Name>\Application Data\Thunderbird\Profiles\<Profile name>\
or
C:\Users\User\AppData\Roaming\ThunderbirdProfiles\<RANDOM SYMBOLS>.default\Mail\<PROFILE NAME>\
All email messages for Thunderbird account are stored in a subdirectory named after the mail server. For example if you have a Yahoo POP account it would create a pop.yahoo.com subdirectory in Mail folder. All messages would be stored in special mailbox files with the folders name and no file extension called mbox files. For example, the inbox folder would be called "Inbox.". If you have the Outlook Import Wizard installed, open the program group and execute the shortcut "MBOX to EML Converter". If you don't have the Outlook Import Wizard installed, download the standalone MBOX Email Extractor and run it.
To find the exact patch to the mailbox storage you may run the Thunderbird software, press "Tools" in the main menu, then "Account Settings…", select the "Server Settings" item. The current emails storage is stated in the "Local Directory" field.
Select the Mailbox File (mbox file to extract):
Click "Select File" button and select the mbox file you wish to convert (Inbox for sample). The program opens the default Thunderbird profiles directory.
You should select and open the profile and then Mail folder, then open the account directory to access to the mbox files. You might need to set the "Files of type" option to "All Files" in the file selection dialog, since Thunderbird mbox files don't have an extension.
Extract Emails From Selected Mailbox
The mailbox file is selected and now you need to choose a directory where eml files will be stored and then start the process. Press "Extract Emails" button and select the empty folder where program should save extracted emails. You can create a new folder and then select it as a target for eml files. The program will start the extraction and all steps will be displayed in the processing log.
Import Eml Files Into Outlook Pst
Outlook can't import eml files directly, you need the special tool such as Outlook Import Wizard to import eml files into Outlook. The Outlook Import Wizard will done the work in few steps, it can import eml and msg files according to the folders structure. If you saved eml files from MAC OS (Entourage for sample) or Unix system, you can enable the special preprocessing option that will convert emails and import them in the Windows based encoding. Download, install and run the Outlook Import Wizard, select the pst file, default Outlook profile or new one to import emails, set needed options and select main directory which stores eml files, then start importing. You visit the online instruction page for more information.
Import Eml Files Into Outlook Express Dbx
Outlook Express can read the eml format as a native email. If you wish to import multiple eml files into Outlook Express folder, you should select eml files and drag the selection to the Outlook Express folder. Outlook Express will import eml files to separate emails and you will be able to organize them inside the mail client.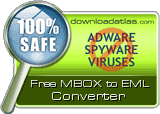 Software archives have done complete security tests of Free MBOX to EML Converter. Free MBOX to EML Converter is clean and safe to install, it is awarded with 100% Safe Award.