No Spy-ware, No Mal-ware, No Bad-ware!
Outlook Import Wizard (eml to pst converter) is 100% safe. We do not monitor and collect any data about your computer usage, we do not install any third party applications, we do not harm your computer privacy and security.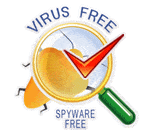 Our main goal is to provide clear and secure software and services. This means that we will never use any bad stuff, such as spy-ware or mal-ware. We do not install any third-party software or add-ins, we do not show any pop-up messages, and we do not collect your personal information.
Our reputation is highly important to us, and we are very proud of the fact that many people around the world have downloaded Outlook Import Wizard and have praised our excellent software and service. We would never do anything to harm the computer, data, or general privacy.
Found 100% Spyware-free by top Anti-Virus and Anti-Spyware vendors.
AntiVir, Avast, AVG, BitDefender, Comodo, DrWeb, eSafe, Fortinet, GData, K7AntiVirus, Kaspersky, McAfee, Microsoft, NOD32, Panda, PCTools, Symantec, TrendMicro, ViRobot, VirusBuster.
Technical Security Sites reviewed Outlook Import Wizard and found that it is 100% safe and secure to download, the software was tested and reviewed by the top Download sites and found 100% spyware free. Below is referral to the safety and technical review of Outlook Import Wizard.
Checked by Virustotal:
Virustotal.com is a service that analyzes suspicious files and facilitates the quick detection of viruses, worms, trojans, and all kinds of malware detected by antivirus engines.
Tested: Spyware Free by doDownload
Outlook Import Wizard is 100% SAFE to download and install.
No Virus, No Spyware and No Adware was found in this software,
Outlook Import Software was thoroughly tested by the three
antivirus programs and was found absolutely clean.
Additionally you can read some press reviews about our software.