MailCOPA is free email client which is used widely by home, corporate users and help desks. It can be called as Outlook Lite because it is contain all you need for email routines. A lot of capabilities, extensive Anti-SPAM protection and immunity from viruses attacks, make it one of powerful alternative to most other e-mail software.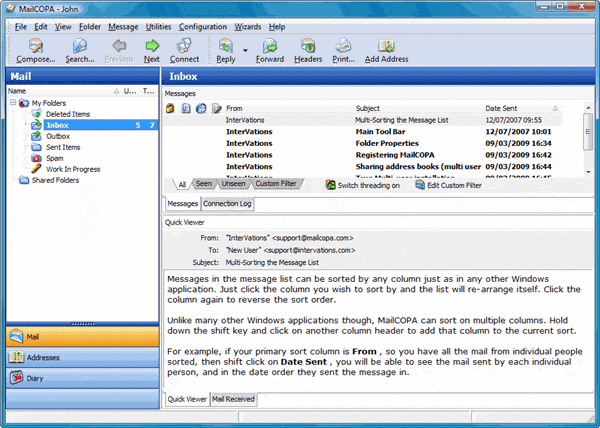 MailCOPA to Outlook Migration
How to move your emails from MailCOPA email client to Outlook? It is simply.
The process consists of two parts:
Extraction of packet emails from the MailCOPA mailbox files;
Importing of extracted MailCOPA emails into Microsoft Outlook;
MailCOPA data extraction:
First you should find where MailCOPA stores emails. MailCOPA e-mail client is using standard MBOX files to store e-mail correspondence. The mail storage can be found in various ways. MailCOPA saves email data to the special directory by default.
For Windows 95, 98 and ME:
C:Program FilesMailCOPAdata
For Windows 2000, 2003 and XP:
C:Documents and SettingsAll UsersApplication DataInterVationsmailcopa
For Windows Vista and Windows 7:
C:ProgramDataInterVationsMailCOPA
You may find the exact location of your mailbox files by going to the MailCOPA configuration menu, selecting Set Preferences and going to the Global settings page. The Data Path field contains the exact path to the MailCOPA email storage folder.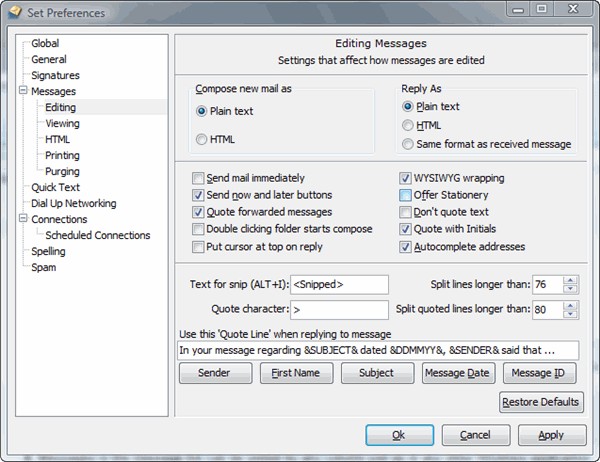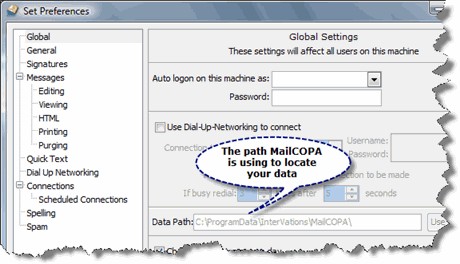 Now you may do the extraction. Download and install the latest version of Outlook Import Wizard utility. Open the program group for Outlook Import Wizard and run the free MBOX to EML Converter tool. It is free and full functional tool for mailbox (.mbox) to .eml conversion. This tool extracts emails stored inside mailbox files and saves each email to individual file of .EML format.
Run the free MBOX to EML utility and add each mailbox file into the list of the program. (You know where MailCOPA stores mailbox files from the previous step) Press "Process" button. The program will prompt you to specify the Output directory – select the empty folder on your hard drive and press OK button to start the EML extraction.
Free MBOX to EML Extractor will start the processing. Extracted emails will be saved to the specified folder. Now you may import extracted emails to MS Outlook with help of Outlook Import Wizard.
Importing of EML files to Outlook:
Start Outlook Import Wizard tool, specify the source folde where your .EML files are located. It is the same folder on your hard drive which was selected by you as the target for the extraction. Press Next button to allow program to find all email files. Press Next button to go to the options page . If you want you may fine tune the importing, or leave the default options set. Press Next button and select the importing target. You may leave the target selected as "Use default Outlook storage" so email files will be imported directly to Outlook.
Please note that Outlook should be not only installed but you should also launch it once after the installation and configure the default user profile to make this option work!
You may also import emails into existing PST file ("Append existing PST file" option) or into the newly created PST ("Create new PST file" option). Read mor about importing options and mode at our online instruction.
Press Start button and Outlook Import Wizard will start the import. You will be able to inspect the importing log to control the process. When the process will be ended, just close the program and run Microsoft Outlook. You will find imported emails inside.
If you have imported your emails into the PST file, you may open it with MS Outlook and start using it. To open PST file in Outlook: select menu File | Open | Outlook Data File and browse to the PST file you hae. Select PST file and confirm the opening. It will be opened as the second storage.
Learn how to extract MailCOPA emails and import them into MS Outlook PST file.