Moving from one place to another can be a troublesome endeavour in the real world – and so can a full migration from one email client to another in the computer universe. Outlook Import Wizard aims to solve this rather serious problem.
In real life, relocating from one apartment to another ideally takes a team of moving professionals, good coordination and timing. The same recipe works for email migrations – message conversion should be performed with a reliable tool capable of transferring each and every of the user's emails to the destination system leaving everything intact and doing it as quickly as possible.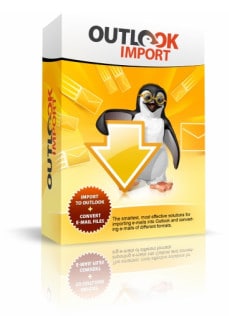 Outlook Import Wizard is a multifunctional conversion and import tool for everyone looking for a way to transfer to Outlook from another email client, such as Windows Mail, Mozilla Thunderbird, Netscape Mail, The Bat or Mac Mail. The software tremendously facilitates the import and transfer of EML, TNEF (DAT) and MSG message files to Outlook by automating most of the necessary operations. Thanks to the simple wizard-based interface, Outlook Import Wizard can be used literally by anyone, even by users with basic computer skills.
Experienced users can benefit from additional Outlook transfer options and filters. For instance, they can be used for narrowing down the list of messages to be transfered or preprocessing messages created in non-Windows operating systems for extra compatibility. The algorithm in the core of Outlook Import Wizard completely rules out the possibility of damaging data during conversion and is extremely fast, so even large email archives won't take too long.
Transfer any file to Outlook

The latest version of the program features a number of improvements aimed at offering users more conversion scenarios and options. One of the greatest improvements over the previous versions is the introduction of the batch processing mode that enables the creation of multiple Outlook PST files from a set of folders containing messages and attachments. Apart from this, the program can now transfer vCard (*.vcf) files to Outlook, supports the TNEF format and allows users to import any files to Outlook PST files, thus turning them into a kind of storage container. This may be a good solution for users willing to have their most frequently used documents inside their Outlook PST file for quicker access or for portability purposes. Finally, the most recent version of the program features a multilingual user interface currently supporting English, German, French, Russian, Italian, Spanish, Portuguese, Dutch, Swedish, Danish and Japanese.
Outlook Import Wizard fully supports all versions of Outlook, including 32- and 64-bit editions.