How to use Outlook Import Wizard without MS Outlook installed?
The Outlook Import Wizard is required the MS Outlook to be installed. But you can try to use the special Microsoft package to enable the import capabilities on the system where Outlook is not installed.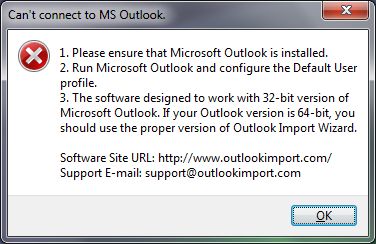 The software displays this error in case if the Outlook is not installed
or the software bitness does not match to Outlook edition.
Please check that your system is one of following: Windows Server 2003; Windows Server 2008; Windows Vista or Windows XP Press here to download the Collaboration Data Objects.
This CDO package will not install on a system on which any version of Microsoft Outlook or Microsoft Exchange Server 2003 or earlier is installed.
If the prior version of CDO package was installed at your system, uninstall it.
Run the downloaded file and point it to the target directory.
It will extract the installer, run it and follow to the installation steps.
After that you will be able to check how it works by running the Outlook Import Wizard against some emlx, eml or msg files. We are sorry, but we can't guaranteed you that this will work. But you can try. The main requirement for Outlook Import Wizard stays the Microsoft Outlook installation with configured default profile.
I don't want to install the Outlook. It is possible for me to convert separate email files of msg, eml, emlx formats into PST file of MS Outlook?