Convert eml to msg with Outlook Import Wizard. Outlook Import Wizard can read eml files and convert them to msg format.
How to convert .eml files to .msg format?
Outlook Import Wizard is utility that can mass convert Filename.eml to Filename.msg while keeping them in original subdirectories.
The main function of Outlook Import Wizard is the messages importing. But version 2 additionally powered with converting module which can easily turn industry standard RFC-822 .eml files to proprietary Microsoft Outlook formated .msg files. It walks an hard drive directory and subdirectory converting every .eml file into a .msg file.
Convert EML email files to Outlook MSG
The .eml format appropriates to multiple email clients. It is based on text format with special delimiters and tags. The .msg is native e-mail format for Microsoft Outlook and it is more complex then .eml because it is encoded as binary.
To convert the number of eml files into msg, please do following steps:
Start Outlook Import Wizard utility
Type in the full path to source folder where .eml files are located or click "Browse" button and point to the source directory.
Click "Next >>" button
The software will scan selected directory and all sub-folders (if the recursive function turned on), find all .eml, .msg files and display them in the file list were you can deselect some items.
Click "Next >>" button
At this step you can configure some options and filters if you need them.
Click "Next >>" button
Click "Convert EML and MSG files to:" option to enable it
The information message will appear:
This option enables the conversion mode.
Do not enable this option if you want to import emails!
Press Ok to close it.
Choose the file format to which you want to convert the source emails.
Press "Start" button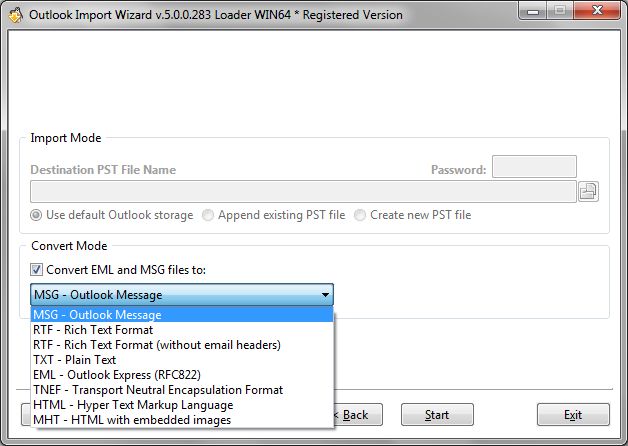 Outlook Import Wizard will convert selected .eml files and save them as .msg files with the same name. Each Outlook .msg file will be saved to the same directory where source .eml file located. You can open the source folder and copy .msg files to another location using standard Microsoft Windows functions.
The Outlook Import Wizard can be used as multi-format e-mails converter, ther is multiple option which helped to convert .EML, .MSG and .EMLX files into different popular formats such as HTML, MHT, PST, MSG, EML, RTF etc.