May 30th, 2012
Comments off
Export Outlook Emails (PST to EML) with Outlook Export Wizard Tool. Outlook Export Wizard is a multi-functional export and conversion tool that enables you to extract Outlook PST files and save this data in a number of formats.
Need to export outlook emails into EML or MSG files ot even Word documents? Want to share extracted Outlook messages on the Web and need them in the HTML format? Looking for a way to transfer emails and contacts from Outlook to an alternative email client? Consider it done!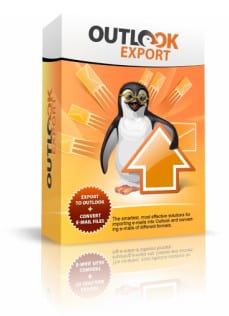 Outlook Export Wizard is one of our most popular and most pragmatic products to date for exporting Outlook data. A multi-functional Outlook export and conversion tool, the Export Wizard enables you to extract the contents of Outlook PST files: export outlook emails, contacts, calendar, notes, attachments and save the data in several formats.
Every item that can be housed in Outlook is exportable and can be converted with this one tool. Email messages, notes, calendar tasks, journal items and contacts – nothing is out of reach for the Outlook Export Wizard. Once exported, these files are accessible for conversion to be edited, published and processed by other third-party programs. Additionally, the Outlook Export Wizard is a sophisticated backup tool, able to facilitate files being accessed by the corresponding editors.
Don't ever feel like your information is stagnant – move it and convert it, quickly, easily and affordably with our Export Wizard!