31. maj, 2012
Comments off
Outlook Import Wizard je vse, kar iščete v EML na uvoz PST Program: preprosta, intuitivno, učinkovito, hitro in ponuja skala-trden funkcionalnost za ugodni ceni. Ta super uvoz EML na PST application allows you to import emails saved in .EML, .EMLX in. MSG formati iz drugih strank v vaš e-MS Outlook profil ali PST datoteke. V bistvu, Outlook Import Wizard deluje kot msg na PST s Eml da pst pretvornik s hitro vgrajen v modul za primarno kontrolo integritete izvornih sporočil.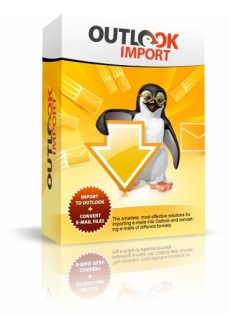 The uvoz Eml na PST software enables you to import email messages with attachments and even uvozne datoteke, katere koli vrste v Outlooku. V slednjem primeru, datoteke bodo dodani v Outlook kot samostojne priponke, ki se lahko uporabijo za varnostno kopiranje pomembnih dokumentov ali pa jih shranite v Outlooku za hitro enim klikom dostop in izmenjavo. Če uvažate datoteke, ki so izvorno podpira Outlook, kot EML, VCF, MSG, ICL in drugi, jih bodo pretvorjeni v ustrezne objekte Outlook ali zapisi samodejno.
Ena od najpomembnejših značilnosti Outlook Import Wizard je njegova sposobnost, da v celoti ohraniti mapo in podmapa struktura za brezšivne, temeljite kretnice z malo ali nič časa, potrebnega za predal po migracij upravljanja. Ta funkcija prav tako prihaja v zelo priročen za uvoz e-poštnih varnostne kopije nazaj v Outlook, since you don';t need to care about mismatching folders anymore.
Kot doda bonus, smo vam brezplačno mbox za EML pretvornik, tako da lahko izpisek iz e-pošte *. mbox datoteke za prihodnost uvoz Eml v Outlook.