MBOX Email estrattur huwa xi faċli għall-użu, assolutament b'xejn mbox konvertitur. L-utilità jippermetti lill-utenti għall-messaġġi tal-posta elettronika minn ta ' l-estratt b'mod effiċjenti .mbox and .mbx files biex iwettqu mbox-EML konverżjoni, issejvjar minnhom bħala fajls .eml separati. Magħquda mal- Assistent ta ' l-importazzjoni Outlook, il-programm huwa għodda b ' saħħitha għall- esportazzjoni mbox ta ' messaġġi mill-Mozilla Thunderbird, Eudora, Posta ta ' l-opra, KMail, Turnpike u MailCopa klijenti għall-posta sussegwenti Importazzjoni fajls PST fis-MS Outlook. Noting the utility';s popularity among our users, Aħna deċiż biex jiġu perfezzjonati MBOX Email estrattur u joffru inti verżjoni aġġornata kompletament tal-programm.
It-tħassib prinċipali bidla fajl lott ipproċessar. M ' għadhomx inti jiġu mġiegħla li twettaq l-operazzjoni ta ' l-istess bosta drabi minħabba li jeħtieġ li jsirulu jikkonvertu mbox fajls separatament: il-karatteristiċi ġodda jippermettu għażla (li jużaw it-tast Shift) diversi sorsi .mbox fajls, which are usually located in the mail client';s profiles folder, fl-istess ħin. Wara dan, il-programm se jitlob li jispeċifikaw id-direttorju vojt fuq id-diska fejn se jinħoloq-subfowlders separata għal kull fajl .mbox: il-messaġġi estratt minn mbox li EML se jitqiegħdu fihom. Meta dan ikun komplut, inti tirċievi struttura direttorju lest ma .eml fajls, li huma ideali għal EML għall-fajls PST importazzjoni għal MS Outlook użu Outlook importazzjoni Assistent, li tagħmel dan Importazzjoni EML possibbli. Fil-qosor, MBOX Email estrattur hija għodda awżiljarja għall mbox-fajls PST konverżjoni ta ' fajl. The program';s interface has been changed to fit the new features, u l-elementi ġodda ta ' tmexxija ġew miżjuda mal-programm kif ukoll.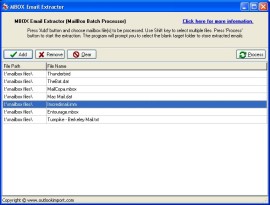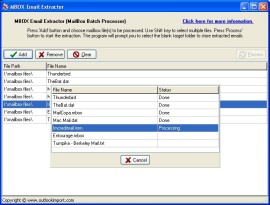 Meta l-immodernizzar tal-konvertitur, kien attenzjoni speċjali li deħlin awtomatiku mbox fajl Sejbien tat-tip. Din il-karatteristika hija aktar meħtieġa meta jitwettaq il- esportazzjoni ta ' l-email minn sistemi tal-UNIX (KMail) u Mac OS (Mozilla Thunderbird għall Mac OS). Issa meta inti jikkonvertu mbox il-fajls, MBOX Email estrattur awtomatikament isib l-ikkodifikar tal-fajl huwa jikkonvertu u, meta meħtieġ, bidliet li sabiex Issejvja l-fajls .eml iġġenerat f'format kompatibbli Windows wara mbox li EML konverżjoni. Thanks to the program';s updated algorithm, il-ħin ta ' l-ipproċessar għall-fajls ma ġew sped minn bosta drabi tu ana! Don';t believe it? Iċċekkja li l-karatteristiċi ta ' dan aġġornat mbox konvertitur issa stess!
Kif qabel, MBOX Email estrattur hija mqassma assolutament b'xejn. L-utilità ma jeħtieġu installazzjoni u jistgħu jintużaw bħala applikazzjoni self-contained għall EML-mbox estrazzjoni tal-messaġġi tal-posta. B ' żieda, MBOX Email estrattur huwa parti mill-pakkett ta ' installazzjoni għall-Assistent ta ' l-importazzjoni Outlook.