PST di Outlook Repair OST con Outlook Recovery Wizard
Outlook Repair File PST e OST con un altamente efficiente e veloce Outlook recupero strumento. Outlook Recovery Wizard will help you restore emails, compiti, le voci del calendario, note, contatti and other objects from damaged Outlook PST/OST file. Nessuna precedente esperienza di recupero di dati o di particolari abilità richieste!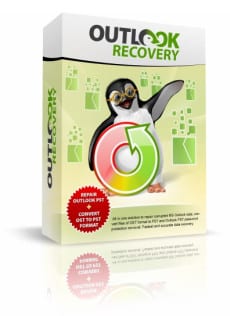 Outlook Recovery Wizard è un altro dei potenti offerte da OutlookImport.com. Questo strumento in particolare, è uno dei più popolare, apprezzato per la sua efficienza, velocità e precisione.
Ora sarà in grado di riparazione di Outlook e-mail, compiti, le voci del calendario, note, contatto e altri oggetti da damaged PST & OST File di Outlook.
Mettendo in mostra una semplice interfaccia basata su wizard, che consente a chiunque di ripristinare Outlook corrotto file di dati in pochi minuti! Questo riduce i tempi di inattività ed elimina la necessità di costosi servizi dati in outsourcing di recupero. Questo programma è facile da usare per il novizio e pro simili.
The user interface for this tool is incredibly easy to maneuver –; punto, adjust your recovery parameters and let Outlook Recovery Wizard la sua magia!
In poche parole, il programma fa il seguente:
Accetta un file di input PST e OST e tenta di trovare tutti i dati recuperabili
Utilizzando diversi avanzato Outlook recupero algoritmi è assicurarsi che il file PST e OST è stata analizzata a fondo per isolare le strutture di dati danneggiati

It then repairs the PST file structure and saves it to a PST file of the user'

;

s choice –

; File EML, Outlook vecchio o nuovo Outlook 2003 Formato PST
PRINCIPALI CARATTERISTICHE DEL PRODOTTO DI RIPARAZIONE Outlook includono:
La completezza multiforme della ripresa Outlook Wizards assicura 100% recupero di precisione ed efficienza

The program requires no formal training or knowledge of Outlook data recovery basics or general recovery experience –

; è semplice, semplice e autoesplicativa
Capacità di sostenere file superiori a 4 GB, recupera i dati crittografati e operare in multitasking come visualizzatore di PST
Rimuove le password dai file PST recuperati per una facile manipolazione
Quando si elabora il file da recuperare,

it doesn'

;

t damage or destabilize the original file and saves the recovered item in a new file altogether to maintain integrity

Multi-platform compatibility –

; funziona con file PST creati in Microsoft Outlook 97 a 2010 come pure i file OST utilizzati in Microsoft Exchange 5.0, 5.5, 2003

&amp

; 2003
You will enjoy the diversity and usefulness of the Outlook Recovery Tool –; especially if you';ve never had to endure the frustration of dealing with a corrupted PST or OST file. Dal punto di vista precauzionale, con questo strumento ti dà un ulteriore senso di autorità e sicurezza che dovrebbe affrontare la corruzione del file, you';re data is not lost and the process to recover it is quick and easy. Il vostro file PST casa personale, sensitive information that you won';t want to risk falling in the hands of a second or third party who may not be appreciative of their contents. Ora avrete il potere di condurre il proprio Outlook Repair programma, garantendo la tua privacy mentre fasci di risparmiare denaro che potrebbe essere altrimenti utilizzati in modo più produttivo.

Prova il programma Outlook Recovery Wizard oggi –; we';re certain you won';t ever want to part with it!
Avviso importante: La versione demo di Outlook Repair strumento mostra il contenuto del messaggio e gli altri elementi brevemente prima di nascondere con una lastra. Questo però sarà più che sufficiente per dedurre quali sono le informazioni potenzialmente recuperabile. La versione demo è limitata a un certo numero di elementi recuperabili per cartella in modo da essere in grado di salvare il file PST, aperto con Outlook e ri-valutare in che modo è stato salvato.