Migrazione e-mail da Apple Mail in Outlook
Q. Ho provato utilizzando Outlook Importazione guidata per importare circa 15,000 mail che sono stati conservati in Apple Mail (v4.1). The import was mostly successful but most of the emails seem to have had small parts of their contents altered. Mostly this manifests itself as characters replaced by the Equals symbol (=) HTML nelle e-mail ricevute dagli utenti che utilizzano Outlook ma il codice HTML si può a volte essere trovata, per esempio, sostituzione delle Ampersand (&) simbolo = amp;. Is this a known problem and, in caso affermativo, c'è qualcosa che posso fare per evitare che si? Is there a better way of la migrazione e-mail da Apple Mail in Outlook in modo che tali trasformazioni non si verifichino?
A. Please enable the emails preprocessing option ";Attiva il preprocessing EML (Unix, MAC)"; prima di avviare l'importazione. The ";Options"; pulsante è disponibile presso la pagina della procedura guidata secondo. Basta attivare e importare messaggi di posta elettronica Outlook. Questa opzione consente di eseguire la scansione di ogni messaggio e corretta codifica dei th in conformità con la tabella di MS Windows char-set. Sarà la rimozione di simboli immondizia dalle email importati in modo che saranno importati correttamente.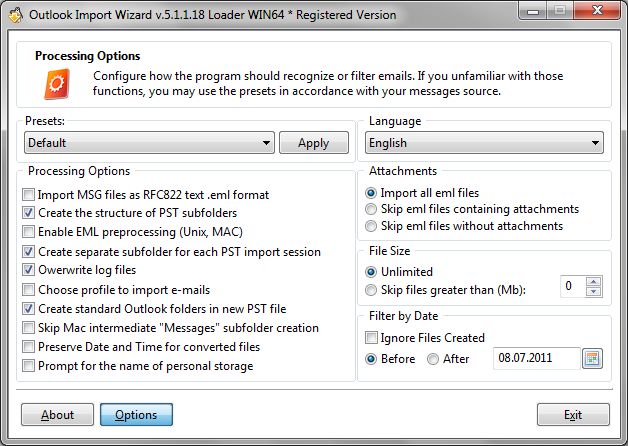 Se volete saperne di più su Outlook Importazione guidata options please leggere questo articolo.
Se vi sentite a disagio per configurare ogni opzione separatamente, è possibile utilizzare uno dei preset. Scegliete il predefinito per Mac OS e-mail software, premere il tasto Applicare pulsante e confermare la scelta delle opzioni premendo OK pulsante.