Outlook export

, Sauvegarde pespektiv
Exporting Outlook Email Contact Task Procedure Description. Learn how to extract data from Outlook profile or PST file using Outlook Export Wizard utility. The tool exports Outlook data to multiple EML, MSG, VCF fichiers.
Outlook
Import Software Instructions
Outlook

Apwè ke

–

;

Step by step description of

eml

pou

outlook

importing procedure or how to move

eml

ak

msg

fichiers nan

MS Outlook

.

Outlook

Ekspòtasyon

–

;

Description of

Outlook

data extraction procedure

,

how to export

Outlook

kontak,

emails

, almanak,

notes

,

attachments and other items

.

Outlook

Gerizon

–

;

How to repair damaged

OST

ni ni

PST

ranpli,

convert

OST

pou

PST

format

.
Outlook

Ekspòtasyon

Outlook Export Wizard can help you to sauvegarde Outlook emails, kontak, notes, calendar and other items to individual files of the available format. With Outlook email extractor you may export emails pou TXT, EML, MSG, HTML be'l varyete fo'm. It is easy to backup email data and use it in another email clients.
Rale dosye

Outlook Export Wizard

and install it

.

Define the source which you want to use for exporting

Outlook

data

.

The Default

Outlook

Profile is selected by default

,

it allows to export the Outlook data of the current user profile

.

As alternative

,

you may select the option "

;

Use External

PST

File

"

;

and specify the full path and

PST

file name

.

You may click the browse button and choose the file location and

PST

name using standard open dialog

.

Specify the target folder

.

Outlook Export Wizard

will use that value to create exported subfolders and save extracted emails and other

Outlook

data

.

There is also the browse button for your convenience

.

Next you may set the format for all exported items or customize the format for each data type individually

.

If the custom option is not selected all data will be exported to files of the format which is defined in the drop box

.

By default it is

Outlook .MSG

format

.

Top

Press

Pwochen

button to go to the next step

.

Top

There you may fine tune the

Outlook

ekspòtasyon.

First option allows you to enable or disable the subfolders creation

.

If the option is OFF

,

exported files will be saved to the output folder without subfolders creation

(

all in one directory

).

Additionally

,

if the custom output format option has been turned ON

,

you may specify the output data format for each

Outlook

data type

.

Initially it is configured by default values

.

Press

Pwochen

button to start export of the

Outlook

data

.

Top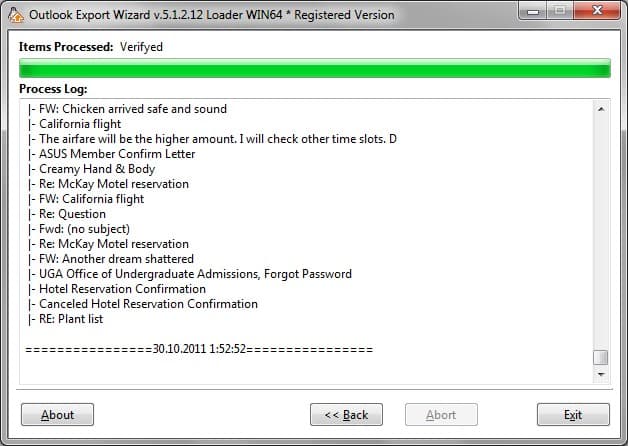 Outlook Export Wizard will save data in accordance with defined options.
Outlook

Sauvegarde

Outlook data backup is simply. Extracted Outlook data can be archived and used as backup. If you would like to restore saved data (import to Outlook) you may use another solution called Outlook Import Wizard.