Kijan pou yo te enpòte yon dosye ki fòma nenpòt nan yon atachman pespektiv?
Aprann kijan pespektiv apwè ke sòsye kapab ede w nan conversion yon ansanm de fichiers sou ou PC nan Pespektiv pièces, Enben devni yon pratik Sauvegarde pespektiv Si yon moun ak ki pèmèt ou pou kenbe ou ki sispann itilize anpil fwa nan yon Katab pa lapòs la chwa ou. Ak pespektiv apwè ke sòsye ou ka byen transfere fichiers ki te sove nan Excel pou pespektiv oswa nan Pawòl pou pespektiv, menm PDF pou pespektiv oswa nenpòt ki lòt dokiman.
Ranpli pièces toujou te pati nan mesaj kouryèll korespondan. Nou ki te sèlman di si te gen yon atachman nan yon mesaj ki pa chache yon ti klips icône tou pre li yo, non, sa te fè rechèch la pou yon espesifik atachman pèmèt ak ki pa klè jan sa dwe fèt. Sepandan, genyen anpil sitiyasyon kote yon abilite pou yo lokalize prese, louvri oubyen devlopman yon espesifik atachman ta rive nan a mò sou la men. Ekzanp, Si ou gen anpil modèles estanda dokiman oswa achte lis sa ou voye pou plizyè benefisyè sou yon baz regilye, ou ka vle yo tout pou yo fizikman ki te lokalize nan yonn nan dossiers pespektiv ou pou kalme aksè ak kominikasyon. Ou ka vle tou pou ou dokiman ki souvan itilize pou rete lontan nan yon dosye PST ak ka modpas-pwoteje ansanm ak ou gen kontak ak korespondans. Tout sa ka fè pou yon sèten degre itilize fonctionnalités pespektiv deyò-de-a-n. Bwat, Men, si n' ap chache yon gwo bèl chato se vre wi: solisyon pwoblèm sa a, ou bezwen pespektiv apwè ke sòsye.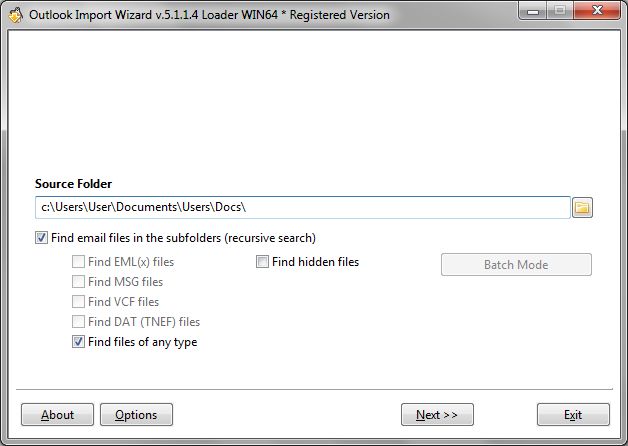 Te chwazi opsyon ki pèmèt fichiers apwè ke nan nenpòt jan pou pespektiv.
Pespektiv apwè ke sòsye ap ede ou vire ranpli yon (Excel, Pawòl, Ets PDF.) sou PC ou nan yon
Atachman pespektiv
Pespektiv apwè ke sòsye ki pèmèt ou pou yo chwazi kèk dokiman (Pawòl, Excel, PDF, ni okenn lòt) sou tèt di ou kondi yo ak byen kouvri l' antre nan yon atachman moun ki pa marye nan pespektiv. Dokiman an pa pwal pati de yon mesaj, Men pral montre nan lis mesaj kòm yon atik autonome. Aparamman, ou kapab konvèti an antye dossiers de Excel, Pawòl, ni lòt fichiers de DISQUE ou pou yo pran fòm kopi yo Pespektiv pièces reside nan espesifik dossiers de Outlook Microsoft ou. Sa yon pratik pou òganize achiv nan dokiman konfidansyèl nan yon, TPS epi san danje PST ranpli, ap kreye yon sauvegarde pespektiv nan dokiman oswa senpleman pou kreye yon depo fasil-pou-aksè ki souvan itilize dokiman dwat nan pespektiv ou, Enben responsabilite pou ou toujou gen aksè instant yo nenpòt kote ou prale ak nou ki labtòb.
Sèvi ak dossiers pespektiv ou pou ranmase anpil fwa te itilize
Pespektiv pièces
Tankou pifò lòt operasyon yo nan pespektiv apwè ke sòsye, rèsponsablite conversion fichiers (Pawòl pou pespektiv, Excel pou pespektiv, PDF pou pespektiv) antre nan Pespektiv pièces is a snap –; ou kapab apwè ke atachman done ap itilize yon koup sourit Sur. Pwosè a trè kòrèk ak est de sa kadran:
Kòmanse pespektiv apwè ke sòsye Sur non li nan kat pwogram a oubyen pa Sur yon chemen kout sou Bureau ou.
Espesifye Katab a ki genyen ki sispann a ou vle pou kreye yon Sauvegarde pespektivsoti. Pou fè sa,

either type the path to the folder manually or use the standard Windows dialog that can be opened by clicking a button to the right of the "

;

Source Folder"

; jaden.


Check the "

;

Find files of any type"

; opsyon pou fè pwogram lan ki gen ladan yo ki sispann nan nenpòt jan nan apwè ke a te chwazi.
Ret tann pou pwogram pou eskane Katab sélectionné a epi montre yon lis de fichiers li te dirije li pou jwenn.

You can click "

;

Abort"

;

at any moment to stop the search process or uncheck the files you don'

;

t need to import once the search is over

. Fè yon sèl fwa,

click "

;

Next"

; pou te pwosede li pou moun pa nan pwochen.
Sou ekran opsyon apwè ke, kite tout bagay chanje. Pwèske tout posiblite sa yo gen entansyon pou fè kouryèll mesaj epi pa pral afekte a Atachman pespektiv apwè ke pwosesis. ou kapab, Sepandan, sèvi ak gwosè- ak ki chita nan dat filtres pou jis desann nou te chwazi yo.
A pa nan kap vini la a Sauvegarde pespektiv A pa nan kap vini la a Pespektiv pièces. ou kapab apwè ke atachman

data in one of the three ways

:


1

)

add the data to an existing PST file

,


2

)

add the data to the default Outlook storage

,


3

)

add the data to a new PST file

.
Fè yon sèl fwa,

click the "

;

Finish"

;

button

.

A few seconds later

,

Outlook Import Wizard will display a window with a list of your Outlook folders

(

if you selected the "

;

Use default Outlook storage"

;

option earlier

).

Make your selection and click "

;

OK"

; pou kòmanse pwosesis apwè ke aktyèl la. Sa a se la Atachman pespektiv sistèm konvèsyon.
Pwogram lan va apwè ke atachman done ak montre yon boutèy demi lit plen operasyon konvèsyon jwe pandan aktyèl enpòte sesyon.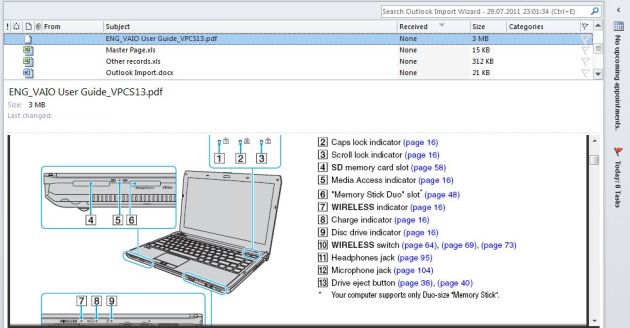 Foto an ki montre kouman sot fichiers ap montre anndan Madanm Outlook.
Yon fwa ke pwosede konvèsyon sou, ou kapab kòmanse pespektiv ou wè ki sispann yo nou te enpòte nan korespondan dossiers. Yo kapab kounye a gen gérés menm jan an tou ou jere nenpòt lòt bagay nan pespektiv.