30. svibnja, 2012
Comments off
Izvoz Outlook e-pošte (PST do EML) s Outlook Export Wizard Alat. Outlook izvoz Čarobnjak je multi-funkcionalni izvoz i pretvorbe alat koji vam omogućuje da ekstrakt Outlook PST datoteke i spremanje tih podataka u raznim formatima.
Potreba za izvesti Outlook e-poštu u EML datoteke ili MSG ot čak i Word dokumenata? Želite li podijeliti izvađenih Outlook poruke na webu te ih je potrebno u HTML formatu? Tražite način za prijenos e-pošte i kontakata iz programa Outlook na alternativni e-mail klijent? Razmislite to učinio!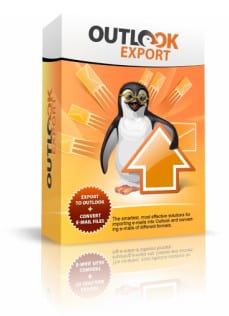 Outlook Export Wizard je jedan od naših najpopularnijih i pragmatičan proizvoda datum za izvoz Outlook podataka. Multi-funkcionalni Outlook izvoz i konverzija, Export Wizard vam omogućuje da ekstrakt sadržaj Outlook PST datoteke: izvesti Outlook e-poštu, kontakti, kalendar, bilješke, prilozi i spremanje podataka u nekoliko formata.
Svaki predmet koji može biti smješten u Outlook je izvozni i može se pretvoriti u ovaj jedan alat. E-mail poruke, bilješke, kalendar zadaci, časopis predmeta i kontakti –; ništa nije izvan dosega za Outlook Export Wizard. Nakon što izvozi, te datoteke su dostupne za pretvorbu za uređivanje, objavljeni i obrađuju drugi third-party programa. Dodatno, the Outlook Export Wizard je sofisticirani alat za backup, mogućnosti za olakšavanje datoteke se pristupiti odgovarajućim urednika.
Don';t ever feel like your information is stagnant –; premjestiti ga i pretvoriti ga, brzo, lako i affordably s našim Export Wizard!