Popravak Outlook PST OST s Outlook Recovery Wizard
Popravak Outlook PST i OST datoteka s vrlo učinkovit i brz Izgledi za oporavak oruđe. Outlook Recovery Wizard will help you restore emails, zadaci, kalendarskih zapisa, bilješke, kontakti and other objects from damaged Outlook PST/OST slika. No prije nego iskustvo oporavak podataka ili nekim posebnim vještinama!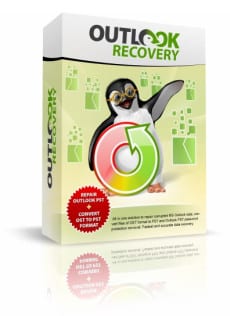 Outlook Recovery Wizard je jedan od snažnih ponude iz OutlookImport.com. Ovaj alat posebno je jedan od najpopularnijih, cijenjena po svojoj učinkovitosti, brzina i točnost.
Sada ćete biti u mogućnosti popravak Outlook e-mail, zadaci, kalendarskih zapisa, bilješke, kontakt i drugi predmeti iz damaged PST & OST Outlook datoteke.
Sporting jednostavan čarobnjak-temeljen sučelje koje daje snagu da bilo tko vraćanje oštećene Outlook datoteke podataka u tek nekoliko minuta! To smanjuje vrijeme zastoja i eliminira potrebu za skupe vanjske data recovery usluge. Ovaj program je jednostavan za korištenje za početnike i pro podjednako.
The user interface for this tool is incredibly easy to maneuver –; točka, adjust your recovery parameters and let Outlook Recovery Wizard raditi svoj magije!
Ukratko, Program se sljedeće:
Prihvaća ulaznu datoteku PST i OST i pokušava naći nikakve podatke nadoknadivi
Koristeći nekoliko napredni Izgledi za oporavak algoritmi se osiguralo da PST ili OST je temeljito analizirao izolirati oštećene strukture podataka

It then repairs the PST file structure and saves it to a PST file of the user'

;

s choice –

; EML datoteke, Stari ili novi Outlook Outlook 2003 PST format
GLAVNE ZNAČAJKE PROIZVODA popravak Outlook UKLJUČUJE:
Višestrukih temeljitost Outlook Recovery Wizardsa osigurava 100% Oporavak točnost i učinkovitost

The program requires no formal training or knowledge of Outlook data recovery basics or general recovery experience –

; to je jednostavno, jednostavno i samorazumljivo
Sposobnost podržati datoteke u više od 4GB, oporavlja šifrirane podatke i može multitask kao PST gledatelja
Uklanja lozinke oporavio od PST datoteke za jednostavnu manipulaciju
Prilikom obrade datoteke koji će biti vraćen,

it doesn'

;

t damage or destabilize the original file and saves the recovered item in a new file altogether to maintain integrity

Multi-platform compatibility –

; radi s PST datotekama stvorili u Microsoft Outlooku 97 na 2010 kao i ost datoteke korištene u Microsoft Exchange 5.0, 5.5, 2003

&amp

; 2003
You will enjoy the diversity and usefulness of the Outlook Recovery Tool –; especially if you';ve never had to endure the frustration of dealing with a corrupted PST or OST file. Iz predostrožnosti stajališta, da ovaj alat vam daje dodatni osjećaj autoriteta i sigurnosti koji treba da se suoče datoteke korupcije, you';re data is not lost and the process to recover it is quick and easy. Vaš PST datoteke kuća osobni, sensitive information that you won';t want to risk falling in the hands of a second or third party who may not be appreciative of their contents. Sada ćete imati na vlast da provede svoju vlastitu Prognoza za popravak program, jamči vam privatnost štedeći vaše pakete novca koji bi se mogao drukčije produktivnije korištenim.

Pokušajte Čarobnjak Recovery programa Outlook danas –; we';re certain you won';t ever want to part with it!
Važna obavijest: Demo verzija Outlook Repair alat pokazuje sadržaja poruke i druge stavke kratko prije nego što ih krije s oknu. Ovo će ipak biti više nego dovoljno za vas da se zaključiti koje informacije je potencijalno nadoknadivi. Demo verzija je ograničena na određen broj predmeta koji su povratno naplativi po mapi tako da ćete biti u mogućnosti da biste spremili PST datoteku, otvoriti Outlook i ponovno procijeniti kako je spasio.