Outlook Import Wizard je 100% Sigurna i sigurne!
Ne Spy-roba, Nema Mal-roba, Ne Bad-roba!
Outlook Čarobnjak za uvoz (eml da PST pretvarač) je 100% siguran. Mi ne prati i prikuplja nikakve podatke o svom korištenja računala, ne instalirate bilo kakve aplikacije treće strane, ne naštetiti vašem računalu privatnost i sigurnost.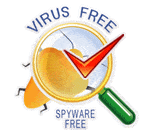 Naš glavni cilj je pružiti jasan i siguran softver i usluge. To znači da nikada nećemo koristiti bilo loše stvari, kao što je špijun-keramika ili mal-roba. Ne instalirati bilo third-party softver ili dodati-ins, ne pokazivati ​​nikakve pop-up poruke, a mi ne prikupljamo Vaše osobne information.There možete vidjeti Antivirus izvješće Qarchive.
Naša reputacija je vrlo važno za nas, i vrlo smo ponosni na činjenicu da se mnogi ljudi iz cijelog svijeta skinuti Outlook Čarobnjak za uvoz i imaju pohvalio naš odličan softver i usluge. Mi nikada neće učiniti ništa na štetu računalo, podaci, ili opći privatnosti.
Pronađen 100% Spyware-besplatno vrh Anti-virus i anti-spyware prodavač.
Antivirusni, Avast, AVG, BitDefender, Zgodan, DrWeb, eSafe, Fortinet, GData, K7AntiVirus, Kaspersky, McAfee, Microsoft, NOD32, Panda, PCTools, Symantec, Trendmicro, ViRobot, VirusBuster.
Tehnički sigurnosti web-mjesta pregledao Outlook Čarobnjak za uvoz i utvrdio da je je 100% sigurna i siguran na preuzimanje, software je testiran i pregledati vrh Preuzmite stranice i utvrdili 100% spyware free. Below is referral to the safety and technical review of Outlook Čarobnjak za uvoz.
Provjeriti VirusTotal:
Virustotal.com je servis koji analizira sumnjive datoteke i olakšava brzo otkrivanje virusa, gliste, trojanaca, i sve vrste malware otkriti mimo AntiVirus motora.
Kliknite ovdje da biste vidjeli izvješće 41 anti-virusni alat.
Testiran: Spyware besplatno doDownload
Outlook Import Wizard je 100% SAFE za preuzimanje i instalaciju.
Ne virus, Ne Spyware i Adware Ne pronađen je u ovom softveru,
Outlook Uvoz Software temeljito testiran od strane tri
antivirusni programi i pronađen je apsolutno čist.
Možete pogledati cijeli Izvješće o sigurnosti postoji.
Osim toga možete pročitati neke recenzije o priopćenja našeg softvera.