Kako Izdvoji privitaka u programu Outlook
Moj PST datoteka sadrži samo Microsoft Office formata predmeti (.doc, .xls, .ppt itd.). Kako izvoz Office dokumente iz PST datoteke? Kako spasiti IPM.Document privitke (primjerice IPM.Document.Word.Document)? Kako ekstrakt priložene dokumente od Outlook PST datoteka ili zadana Outlook profil? Kako uštedjeti Izgledi vezanost i privitak e-pošte u zasebne datoteke.
The PST datoteka može sadržavati samo IPM.Document Zbirka koja pohranjuje datoteke kao jedan prilog. Ili PST datoteka može biti ispunjena norma Izgledi predmete koji mogu sadržavati datoteke u privitku. U oba slučaja možete koristiti Outlook Export Wizard izdvojiti i spremiti datoteke u privitku.
Ekstrakt Outlook privitke molimo Vas da učinite sljedeće:
Trčanje Outlook Export Wizard softver

Enable the option '

;Odaberite External PST datoteku

'

;
Odaberite datoteku izvora gdje PST Outlook privitke su pohranjeni
Odredite ciljnu mapu u kojoj se upitnik bi trebao ekstrakt Outlook privitke

Disable the option '

;Običaj

'

;

*

Choose the '

;***

–

; Izvoz Samo privitke

'

; vrijednost u Izlazni format popis
Pritisnite Mogućnosti gumb i konfigurirati dodatne opcije, ako je potrebno. Vi svibanj izvoz vezanosti za jednu mapu ili konfigurirati program da bi stvorili kopiju strukture Outlook mape na tvrdom disku.
Pritisnite Sljedeći Gumb

The program will scan the folders structure and display the folders structure preview

Pritisnite Početi tipka za pokretanje postupka izvoza
Program će započeti

izvoz Outlook PST privitke

.

You can stop the process using '

;Stop

'

; Gumb, u tom slučaju izvoza bit će nepotpuna. Program će ispuniti zapisnik proces koji se može koristiti pregledati proces protoka.
* Opcija dostupna od verzije 1.3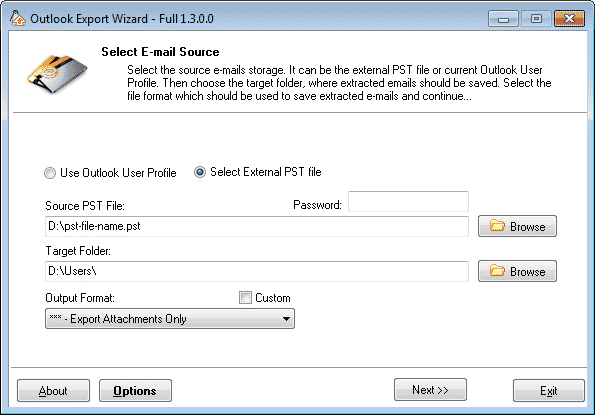 Kada je proces završen koristiti Izlaz gumb da biste zatvorili softver ili pritisnite tipku Natrag tipku dva puta i koristiti softver za izvoz stavke u Outlooku i spremite ih u blizini izvađen privitke. Da biste to, samo ponovite sve korake opisane gore, ali odaberite neki drugi oblik izvoza u točki #6.