MailCOPA бясплатны паштовы кліент, які шырока выкарыстоўваецца дома, карпаратыўныя карыстальнікі і даведачных службаў. Гэта можна назваць як Outlook Lite, таму што гэта змяшчае усё, што трэба для працэдуры па электроннай пошце. Шмат магчымасцяў, вялікі анты-спам абарона і імунітэт ад нападаў вірусаў, робяць яго адным з магутнай альтэрнатывай для большасці іншых паштовых праграм.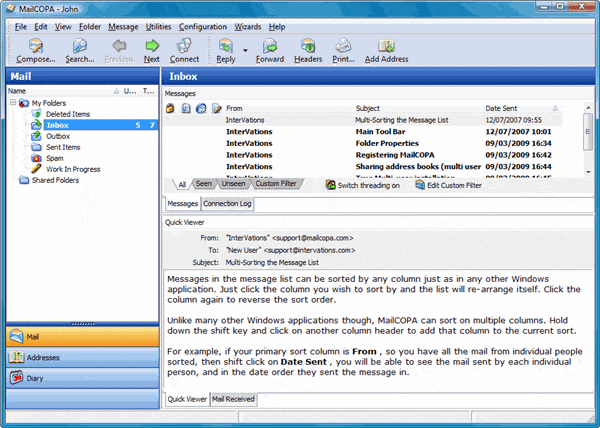 MailCOPA, каб перспектывы міграцыі
Як перанесці электронную пошту з кліента MailCOPA электроннай пошты ў Outlook? Гэта проста.
Працэс складаецца з двух частак:
Выманне пакетаў, лістоў з паштовай скрыні файлаў MailCOPA;
Імпарт вынятыя паведамленні MailCOPA ў Microsoft Outlook з;
MailCOPA здабывання дадзеных:
Спачатку вы павінны знайсці, дзе захоўваецца MailCOPA лісты. MailCOPA кліент электроннай пошты з выкарыстаннем стандартных mbox файлаў для захоўвання, перапіскі па электроннай пошце. Захоўванне пошты могуць быць знойдзены рознымі спосабамі. MailCOPA захоўвае дадзеныя электроннай пошты ў спецыяльную дырэкторыю па змаўчанні.
Для Windows 95, 98 і Me:
З:FilesMailCOPAdata Праграмы
Для Windows 2000, 2003 і XP:
З:Дакументы і SettingsAll UsersApplication DataInterVationsmailcopa
Для Windows Vista і Windows 7:
З:ProgramDataInterVationsMailCOPA
Вы можаце знайсці дакладнае месцазнаходжанне вашых файлаў паштовага скрыні на MailCOPA меню канфігурацыі, выбар Набор Пераваг і збіраецца Глабальныя параметры старонкі. У Шлях Дадзеных поле ўтрымлівае дакладны шлях да тэчцы захоўвання MailCOPA электроннай пошты.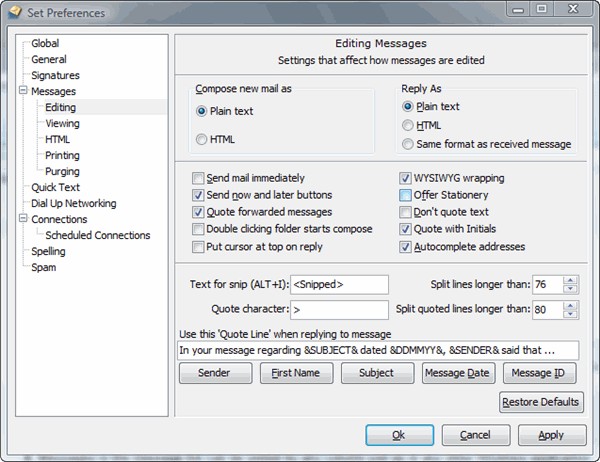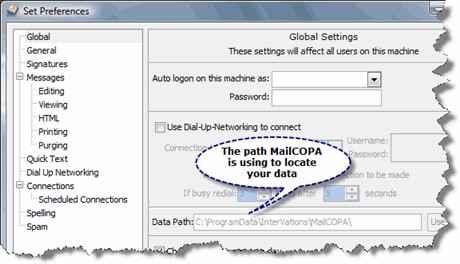 Цяпер вы можаце заняцца здабычай. Спампаваць і ўсталяваць апошнюю версію ўтыліты Outlook майстры імпарту. Open the program group for Outlook Import Wizard and run the free MBOX to EML Converter tool. It is free and full functional tool for mailbox ([object Window]) to .eml conversion. This tool extracts emails stored inside mailbox files and saves each email to individual file of .EML format.
Run the free MBOX to EML utility and add each mailbox file into the list of the program. (You know where MailCOPA stores mailbox files from the previous step) Press ";Process"; button. The program will prompt you to specify the Output directory –; select the empty folder on your hard drive and press OK button to start the EML extraction.
Free MBOX to EML Extractor will start the processing. Extracted emails will be saved to the specified folder. Now you may import extracted emails to MS Outlook with help of Outlook Import Wizard.
Importing of EML files to Outlook:
Start Outlook Import Wizard tool, specify the source folde where your .EML files are located. It is the same folder on your hard drive which was selected by you as the target for the extraction. Press Next button to allow program to find all email files. Press Next button to go to the options page . If you want you may fine tune the importing, or leave the default options set. Press Next button and select the importing target. You may leave the target selected as ";Use default Outlook storage"; so email files will be imported directly to Outlook.
Please note that Outlook should be not only installed but you should also launch it once after the installation and configure the default user profile to make this option work!
You may also import emails into existing PST file (";Append existing PST file"; option) or into the newly created PST (";Create new PST file"; option). Read mor about importing options and mode at our online instruction.
Press Start button and Outlook Import Wizard will start the import. You will be able to inspect the importing log to control the process. When the process will be ended, just close the program and run Microsoft Outlook. You will find imported emails inside.
If you have imported your emails into the PST file, you may open it with MS Outlook and start using it. To open PST file in Outlook: select menu File | [object Window] | Outlook Data File and browse to the PST file you hae. Select PST file and confirm the opening. It will be opened as the second storage.
Learn how to extract MailCOPA emails and import them into MS Outlook PST file.