Hoe Outlook invoer om Ghoeroe te gebruik sonder MS Outlook geïnstalleer?
Die Outlook invoer Ghoeroe vereis die MS Outlook om geïnstalleer te word. Maar jy kan probeer om die spesiale Microsoft-pakket te aktiveer die invoer vermoëns op die stelsel waar Outlook geïnstalleer is nie.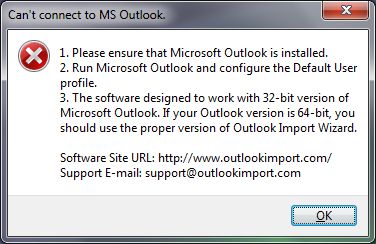 Die sagteware wys hierdie fout in geval as die Outlook geïnstalleer is nie
of die sagteware bitness nie vergelyk met Outlook uitgawe.
Kontroleer asseblief dat jou stelsel is een van die volgende: Windows Server 2003; Windows Server 2008; Windows Vista of Windows XP Press here to download the Collaboration Data Objects from Microsoft site.
This CDO package will not install on a system on which any version of Microsoft Outlook or Microsoft Exchange Server 2003 or earlier is installed.
As die vooraf weergawe van CDO pakket is geïnstalleer op jou stelsel, Deïnstalleer dit.
Die afgelaaide lêer uitvoer en dit wys na die teiken gids.
Dit sal die installeerder ekstrak, loop dit en volg na die installasie stappe.
Na wat jy sal in staat wees om te kyk hoe dit werk deur die Outlook invoer Ghoeroe te laat loop teen 'n paar EMLX, EML of msg lêers. Ons is jammer, but we can';t guaranteed you that this will work. Maar jy kan probeer. Die belangrikste vereiste vir Outlook invoer Ghoeroe bly die Microsoft Outlook installasie met gekonfigureer verstekprofiel.
I don';t want to install the Outlook. Dit is moontlik vir my om te omskep in afsonderlike e-pos lêers van msg, EML, EMLX formate in PST lêer van MS Outlook?