Outlook uitvoer, Outlook rugsteun
Uitvoer Outlook E-pos kontak taak prosedure Beskrywing. Leer hoe om te onttrek data uit Outlook profiel of PST lêer met behulp van Outlook Export Wizard nut. Die instrument uitvoere Outlook data om veelvuldige EML, MSG, VCF lêers.
Outlook

Voer sagteware instruksies
Outlook

Invoer

–

; Stap deur stap Beskrywing van

eml

om te

outlook

invoer prosedure of hoe om te beweeg

eml

en

msg

lêers in

MS Outlook

.

Outlook

Uitvoer

–

; Beskrywing van

Outlook

data ontginning prosedure, Hoe om te voer

Outlook

kontakte, e-posse, kalender, notas, aanhegsels en ander items.

Outlook

Herstel

–

; Hoe om te herstel beskadigde

OST

of

PST

lêer, omskep

OST

om te

PST

formaat.
Outlook

Uitvoer

Outlook Export Wizard kan jou help om te rugsteun Outlook e-posse, kontakte, notas, kalender en ander items om individuele lêers van die beskikbare formaat. Met Outlook e-pos extractor Jy kan Voer e-posse om te TXT, EML, MSG, HTML formate. Dit is maklik om te rugsteun e-pos data en gebruik dit in 'n ander e-pos kliënte.
Laai af

Outlook Export Wizard

en installeer dit.
Definieer die bron wat jy wil gebruik vir uitvoer

Outlook

data. Die verstek

Outlook

Profiel is by verstek gekies, Dit laat die Outlook data van die huidige gebruikersprofiel uitvoer. As alternatief,

you may select the option "

;Gebruik ekstern

PST

Lêer

"

; en spesifiseer die volle pad en

PST

lêer naam. Jy kan klik die Blaai-knoppie en kies die lêer ligging en

PST

naam gebruik standaard oop dialoog.
Spesifiseer die teiken vouer.

Outlook Export Wizard

sal gebruik dat waarde uitgevoerde subvouers skep en stoor gedekompakteer e-posse en ander

Outlook

data. Daar is ook die Blaaiknoppie vir u gerief.
Volgende jy mag stel die formaat vir alle uitgevoerde items of Pasmaak die formaat vir elke datatipe individueel. As die pasgemaakte opsie gekies is nie alle data sal uitgevoer word om lêers van die formaat wat in die drop box omskryf word. By verstek dit is

Outlook .MSG

formaat. Bo
Press Volgende knoppie om te gaan na die volgende stap. Bo
Daar jy kan fyn ingestel is op die

Outlook

uitvoer. Eerste opsie laat jou toe om aktiveer of deaktiveer die subvouers skepping. As die opsie is om, uitgevoerde lêers sal gestoor word op die uitset vouer sonder subvouers skepping (alles in een gids). Addisioneel, as die pasgemaakte uitset formaat opsie is aangeskakel, Jy kan spesifiseer die uitset data formaat vir elk

Outlook

datatipe. Aanvanklik dit deur verstekwaarde is gekonfigureer.
Press Volgende knoppie om te begin uitvoer van die

Outlook

data. Bo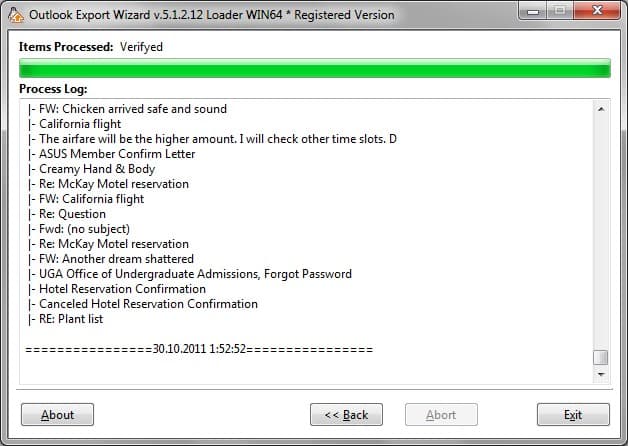 Outlook Export Wizard sal stoor data ooreenkomstig gedefinieerde opsies.
Outlook

Rugsteun

Outlook data rugsteun is eenvoudig. Ontgin Outlook data kan geargiveer en gebruik as rugsteun. As jy wil graag laai data gestoor (Voer in na Outlook) Jy kan 'n ander oplossing genoem gebruik Outlook Import Wizard.