Die maklikste en die mees doeltreffende manier om te invoer EML na Outlook
Leer hoe Outlook Invoer Wizard kan jou help om op te los die EML na Outlook omskakeling probleem en die oordrag van duisende van e-pos met aanhangsels te PST in'n knip van'n oog. Met hierdie sagteware aan die hand, Invoer EML lêers in Outlook word'n taak enige gebruiker kan hanteer.
Outlook Import Wizard is'n betroubare, vinnige en uiters doeltreffende
EML na Outlook

converter te hê

Volgens onafhanklike studies, Microsoft Outlook is die leier van die korporatiewe e-pos en kommunikasie sagteware mark. Hoewel dit is meestal gebruik word deur die korporatiewe gebruikers, baie van hulle vind dit so gerieflik dat hulle dit installeer by die huis so goed om te gebruik dieselfde bekende funksies en in staat wees om te bly in sync met die kantoor. Sedert MS Outlook is gaining popularity, more and more users choose it over alternative email clients –; and this process usually starts with finding a proper tool capable of transferring all of the existing emails to the new system. Since emails may contain fairly sensitive and private information, reliability is the number one priority in this case. Most email programs can unload their email archives into folders filled with *.eml messages, so all you need to do and export them from the source email client and correctly import EML files into Outlook.

Die EML formaat was historically developed for [object Window], the ";lighter"; and less functional version of Outlook. These files are plain text in the MIME-formaat wat die boodskap kop, liggaam en aanhegsels in verskeie moontlike formate. Met die tyd, die formaat is aangeneem deur'n aantal van die ander e-pos sagteware vervaardigers en gebruik word in verskeie programme, so EML is nou ondersteun deur Microsoft Windows Mail, Die Kolf, Aanhangers en Mozilla Thunderbird, onder andere. Maar, sedert Outlook nie ondersteun hierdie formaat direk, gebruikers kan nie doeltreffend invoer EML na Outlook voor die vrystelling van die Outlook Import Wizard [ AFLAAI ]. Hierdie sagteware is uiteindelik in staat gestel om diegene wat in die behoefte van'n EML na Outlook converter to transfer all of their correspondence absolutely painlessly and without losing a single byte of their data. It was quite a breakthrough and a bridge that closed the gap between Outlook and the rest of the products, empowering users to migrate to Outlook in hassle-free and expedient manner.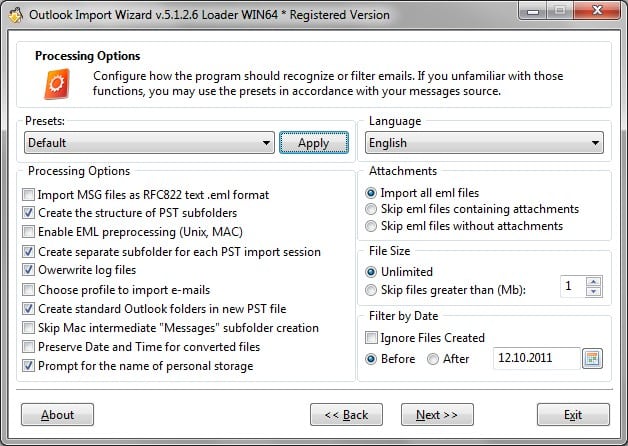 Outlook Import Wizard is an ultimate data migration tool that allows users to import EML files to Outlook using an intuitive wizard-based interface and just a few mouse clicks. The program features plenty of conversion options, which gives advanced users the flexibility they look for in high quality software. For all other users, the process of EML na Outlook conversion will be a snap. The program works with email archives of any size, so if you need to invoer EML na Outlook and have an XXXL sized folder of emails and attachments, don';t worry –; the program will easily cope with it. Using the program requires absolutely no experience or special skills –; everything is very self-explanatory and logical, so anyone can import EML in Outlook met behulp van Outlook Import Wizard in no time. Outlook Import Wizard truly makes the process of migrating from other email clients to Microsoft Outlook a breeze!
Import EML files to Outlook
in no time and with a bare minimum of effort
The conversion process consists of a series of interconnected steps. All you need to do is to fill out the necessary fields, select the options you need and click the ";Next"; button to proceed forward.
If you are ready to import EML files to Outlook, follow the simple instructions provided below:
Start

Outlook Import Wizard

either by clicking its name in the Programs menu or using a shortcut on your desktop

.

Specify the source folder containing the

EML

files you would like to convert to PST

.

This can be done either by typing the path to the source folder in the "

;

Source folder

"

;

field or clicking a button to the right of the field and using the standard Windows folder selection dialog

.

If you are sure about the location of the source folder

,

type it into the field and the program will validate it as you type

.

The "

;

Next

"

;

button will remain inactive until the program has validated the entered path

.

Since you are

importing EML files into Outlook

,

select the "

;

Find ELM

(

x

) lêers

"

;

option under the Source Folder field and uncheck all other irrelevant options

.

Note that if you want to

invoer EML na Outlook

and preserve the folder structure

,

make sure to prepare the folders on your hard drive in advance

.

This will ensure that they will be properly converted into mail folders in the destination Outlook PST file

.

If you want the program to search for files recursively

,

check the corresponding option

.

Once you have selected the file type the program should search for and the "

;

Next

"

;

button is active

,

click it to proceed to the next step of the import wizard

.

The program searches for files in the specified location

(

you can terminate the search process at any moment by clicking the "

;

Abort

"

;

button

)

and displays the search results

.

You can uncheck the unnecessary files manually or use the Check All/Uncheck All buttons at the top of the window

.

Once done

,

proceed to the next step of the import process by clicking the "

;

Next

"

;

button

.

Outlook Import Wizard

offers plenty of data processing options and filters that can be used for fine-tuning the import process

.

You can use one of the available presets or choose custom settings

.

If you are not sure about the settings you should choose to

invoer EML na Outlook,

just leave them unchanged and proceed to the next step of the wizard

.

Select the destination storage for the imported data

.

This can be either the

default Outlook storage

,

an

existing PST file

or a

new PST file

.

If a PST file is password-protected

,

you'

;

ll need to enter the password into a corresponding field above the destination file field

.

Once done

,

click "

;

Start

"

;

to start the

EML na Outlook

conversion process

.

The final step of the wizard enables you to take a look at the log of the import session the program has just completed

.
For more information on importing EML files into Outlook and using Outlook Import Wizard, see the official site and the video below. It contains an overview of Outlook Import Wizard features and shows how to invoer EML na Outlook in the most efficient way.