How to Extract the Outlook Attachments
My PST file contains only Microsoft Office format items (.doc, .xls, .ppt etc.). How to export the Office documents from a PST file? How to save IPM.Document attachments (for example IPM.Document.Word.Document)? How to extract attached documents from Outlook PST file or default Outlook profile? How to save an Outlook attachment en email attachment to separate files.
Die PST file can contain only the IPM.Document collection which stores the files as a single attachment. Or the PST file can be filled with the standard Outlook items which may contain the attached files. In both cases you can use the Outlook Export Wizard to extract and save attached files.
To Extract Outlook attachments please do the following

:
Run the

Outlook Export Wizard

software

Enable the option '

;

Select External PST File

'

;

Choose the source PST file where the

Outlook attachments

are stored

Specify the target folder where the tool should

extract Outlook attachments

Disable the option '

;

Custom

'

;

*

Choose the '

;

*** –

;

Export Attachments Only

'

;

value in the

Uitset formaat

list

Druk die

Options

button and configure additional options if needed

.

You may export attachments to a single folder or configure the program to create a copy of the Outlook folders structure on the hard drive

.
Druk die

Next

knoppie

The program will scan the folders structure and display the folders structure preview

Druk die

Start

button to start the exporting procedure

The program will start

exporting the Outlook PST attachments

.

You can stop the process using '

;

Stop

'

; knoppie,

in that case the exporting will be incomplete

.

The program will fill out the process log which can be used to inspect the process flow

.
* The option available from version 1.3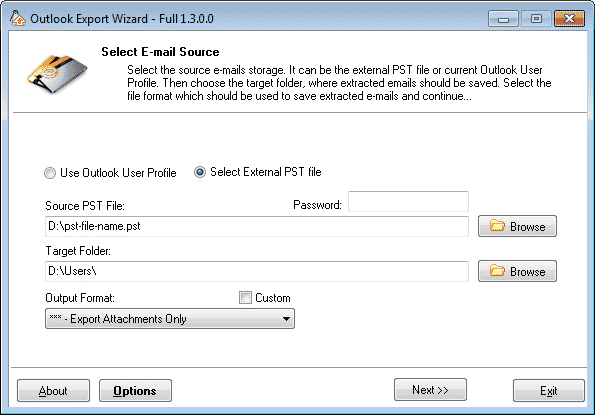 When the process is completed use the Exit button to close the software or press the Back button twice and use the software to export Outlook items and save them near extracted attachments. To do that, just repeat all steps described above, but select another exporting format in point #6.